Oregon Ballet Theatre: The Nutcracker
Saturday, December 8 at 2:00 PM
Saturday, December 8 at 7:30 PM
Sunday, December 9 at 2:00 PM
Sunday, December 9 at 7:30 PM
Friday, December 14 at 7:30 PM
Saturday, December 15 at 2:00 PM
Saturday, December 15 at 7:30 PM
Sunday, December 16 at 2:00 PM
Sunday, December 16 at 7:30 PM
Wednesday, December 19 at 7:30 PM
Thursday, December 20 at 7:30 PM
Friday, December 21 at 7:30 PM
Saturday, December 22 at 2:00 PM
Saturday, December 22 at 7:30 PM
Sunday, December 23 at 2:00 PM
Sunday, December 23 at 7:30 PM

Oregon Ballet Theatre perform the classic ballet The Nutcracker, featuring the OBT Orchestra at Keller Auditorium this December.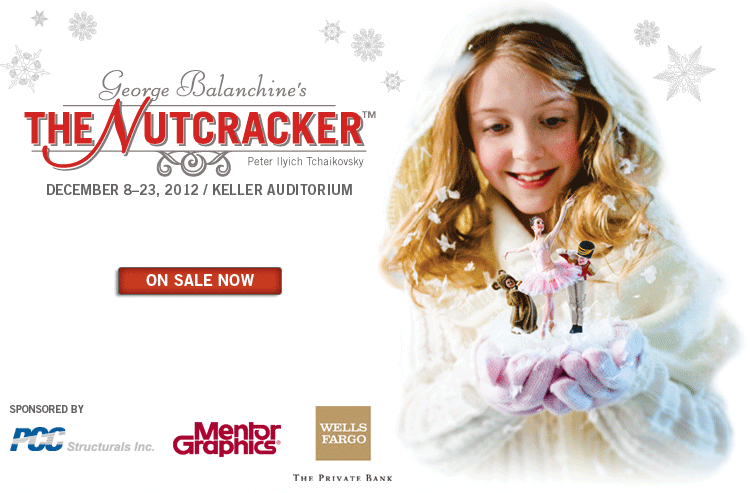 See George Balanchine's The Nutcracker this holiday season, the 20th century's most famous choreographer with the score by Tchaikovsky.
Starring Julia Rowe as The Sugar Plum Fairy, this beloved classic is the magical tale of toy soldiers, rat armies and snowflakes dancing.
Balanchine (January 22, 1904 – April 30, 1983) created his version of The Nutcracker in 1955, where he played the mime role of Drosselmeyer.
Oregon Ballet Theatre is a ballet company in Portland, Oregon, which performs an annual five program season, performing in regional and national tours.